Daily Simple Meal Suggestions
Breakfasts
cereal with fruit
toast w/jam and nut butters
pancakes with berries and maple syrup
pancake bars
porridge or "oats" with berries
hash browns
breakfast beans on toast
We were both brought up eating mostly cereals, some sugary, with milk and toast. Some of those habits stick and we have just adapted by eating only cereals like Shredded Wheat, Spoon Size Shredded Wheat and Bran and Nature's Path Organic Cereals. To the bottom of the cereal bowl we add a small amount of rolled oats and on top of the cereal we add berries (frozen left in the fridge overnight to thaw), a sliced banada, walnuts, a tablespoon of ground flax meal and then the milk varies from unsweetened, original almond, cashew or soy milk. READ LABELS whether it be cereal or milk - the fewer ingredients the better, no added oils are best and low sugar/salts. The healthiest milk? maybe the one you make yourself in 5 minutes or less.... banana milk.
Toast is easy as there are many sprouted healthy breads available in the freezer section of most larger supermarkets. There are good jams or natural raw peanut butter or raw almond butters or you can make your own almond butter if you have a food processor. Again READ the LABEL.
Pancakes are simple when either made from scratch or from good mixes that you can find. We prefer Bob's Mill buckwheat pancake mix and as it is not always available there are other whole food options. Most mixes ask for one egg and some oil and the substitutes for egg are: 1 tablespoon flax meal in 3 tablespoons water (allow it to sit for at least 15 minutes in the fridge), second option is to use aquafaba (chick pea/garbanzo bean liquid) on a one to three ratio. One eggs equals 3 tablespoons aquafaba. The oil substitute that is our preference is simple applesauce. Our supermarket sells it without additives in a package of 6 small containers, which are perfect as a it is a one to one ratio for the oil and opening the small container means not wasting a whole jar if you don't use it up quickly enough. While the pancakes are being flipped and stored in the oven to keep warm the frozen or fresh berries are heating up on the stove in a small amount of pure maple syrup ready to be poured over top. A side of breakfast beans is good here.
Pancake bars are new item in our repertoire from recipe sent to me by a very good friend. I made these this past week and took half on the road with us when we had to travel and it was just as tasty when reheated in the oven. The recipe is below.
Porridge is another staple from our childhood, although normally on weekends only or from those small packets that you just mixed with water. Now we buy steel cut oats or rolled oats and make them on the stovetop. When I put the water on to warm up I put in 'golden berries' and frozen fresh cranberries. If you are not familiar with golden berries, take the time to google them as they are packed full of nutrients and plump up beautifully in the porridge. Once the porridge is cooked it is topped with a few walnuts, turmeric, flax meal, berries and sometimes banana. We love the chewiness of the steel cut oats and do understand that some people prefer rolled. Chopped up dates are a nice topping too. Recently I have started to add a sprinkling of cocoa powder, PB powder and a drizzle of tahini.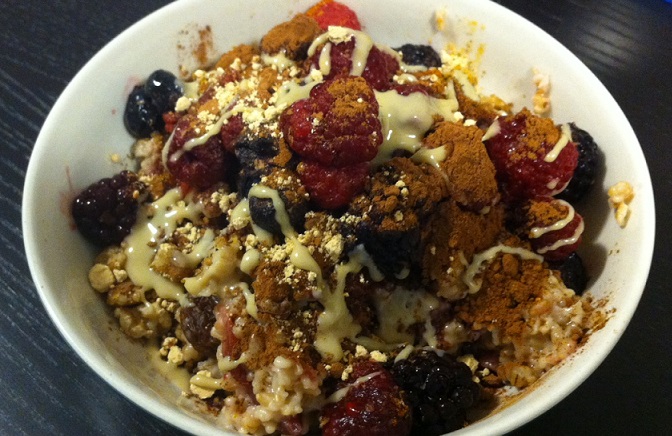 Hash Browns have become one of our favourite weekend meals and occasional dinners. Fortunately our local grocery store carries a fresh non-frozen package of hash browns (no additives or oils) and that makes life so much easier as making the hash browns ourselves was not a successful experiment; may have to try it again. Meanwhile, our method of cooking them comes straight from High Carb Hannah (minute 3:00) and it is so simple and tasty. Most important points to take from her video are the following: if you have a non-stick flat bottom pan, that works best and also "leave the lid off" while cooking and don't flip the hash browns until at least 15-20 minutes has gone by on the first side (or the edges start browning). I usually start with chopped onions and garlic in the pan and put the lid on to start cooking them (no oil needed), then add any other veggies that we like, like mushrooms, bell peppers, jalapenos, and then just before putting in the hash browns themselves I will put in chopped fresh spinach or kale to allow it to start cooking. A side of breakfast beans goes well here along with some fruit. For toppings a sprinkling of nutritional yeast and or some hot sauce and a drizzle of tahini makes it a well rounded meal.
Breakfast beans can be a side dish to any breakfast and it remains one of our favourites with just toast. So simple and you can either use some of your own homemade beans and or join us in being lazy and buy them from the store. If you buy the ones that are in tomato sauce only then you don't have to be concerned about animal products or added oils and just try to choose the lowest sodium option. A sprinkle of turmeric or hot sauce adds flavour and sometimes we chop up some onion and halepeno and add it to the pot also. Breakfast beans are also a good topping for leftover potatoes reheated.
Baked Lemony Pancake Berry Bars - INGREDIENTS
ty Michelle for the inspiration - from athleticavocado.com with a few changes
one and a half (1.5) cups of pancake mix
one flax egg or 3 tablespoons of aquafaba (see above)
one half (1/2) cup of applesauce
one third (1/3) cup of plant based milk (original, unsweetened preferred)
three (3) tablespoons of pure maple syrup (Canadian preferred)
two (2) tablespoons of lemon juice, fresh or bottled
one and a half (1.5) cups of fresh or frozen berries (make sure there are some blueberries, we love the blueberry, raspberry and blackberry mix
ASSEMBLY
line a 9" x 9" baking pan with parchment paper and turn the oven to 350 degrees
put the pancake mix in a bowl then use a the two cup measuring cup to mix the milk, egg substitute, applesauce, maple syrup and lemon juice together and then add to the pancake mix, combining well
add the berries and stir again then place in pan and bake for 15 to 20 minutes
Store leftovers in refrigerator and reheat in oven on warm or freeze and reheat. ENJOY!
SpiritualMatchMaking.com is the main sponsor of this website, please support us by checking to see if your soulmate might be found there and pass the link on to any friends who are "conscious" and are having a challenge finding a partner.

Starchivore Whole Food Plant-Based Lifestyle
Definition:
a plant-based diet that reduces or eliminates all animal foods like meat, dairy, and eggs PLUS has the addition of starch, so that you feel full and satisfied
include grains like rye, barley, wheat, oats and corn; starchy vegetables like squash, potatoes, and sweet potatoes and legumes like red and brown lentils, chick peas, green peas, and lotsa beans like pinto, kidney AND lots of fresh fruits and vegetables
reduces or eliminates added oils, including coconut, olive and peanut and reduces added sugars and salts
it is believed Dr T Colin Campbell coined the term "whole food, plant-based" and Dr John McDougall the term "starchivore"


Looking for a soulmate that lives a plant-based whole foods lifestyle? or a vegan or a vegetarian? Visit our sponsor SpiritualMatchMaking.com.